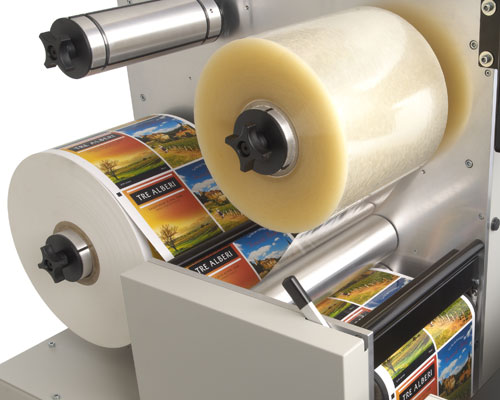 Primera Technology has discontinued the FX1200 finishing system.
Another vital component of the printing process for vast sheets of labels is the finishing process, which may have escaped your company's planning. The Primera FX1200 Digital Finishing system offers a chance to digitally cut your labels to any size or shape without dies, saving you thousands of dollars. Plus Laminate, slit and rewind the labels all in a single process, to speed up your in house label production capabilities you can have everything you need under one roof.
FX1200 is an "all-in-one" off-line solution that produces rolls of finished labels produced by a variety of narrow-web output devices like the Primera CX1200 or Afinia L801 Memjet label printers.
With FX1200, you'll be able to quickly and easily perform all of these label finishing steps in a single, integrated and automated process:
There are lots of choices these days in the digital label press arena. It can all be very confusing. To help clear things up, we'd like to point out something that you may not know: Primera's CX1200 Digital Label Press and FX1200 Digital Label Finishing System are the best-selling mid-sized digital label production systems sold in the world today. Why? Because they're packed with features and benefits simply not available from others. They're also an exceptional value.
Here are some reasons why the FX1200 Digital Label Finishing Systems could be the right choice for your business:
They just work

- Right out of the shipping crates, your new FX1200 will be up and running in about an hour. We include pre-loaded videos to show you all of the steps to get started.

Primera is number two

- Behind HP Indigo®, we believe that the more Primera digital label production equipment has been sold than any other brand. HP has been doing it about a decade longer, but Primera is catching up. It costs about ten times less than an HP Indigo, so hopefully it won't take too long.

The print quality is exceptional -

Here's something you'll find interesting and actually kind of fun: send the exact same print file to Primera and to any or all of its competitors. Ask for 100 consecutive feet (about 30 meters) of output. You be the judge about whose print quality and consistency through a continuous run is best.

It offers a complete solution -

Primera's CX1200 and FX1200 were specifically designed for each other and are operated off of the same software. In fact, we like to think of FX1200 as Primera's 11 Secret weapon" because most other digital press vendors don't have anything even remotely like it. Instead, they'll refer you to various third-party finishing systems- many of which look like they're built in someone's garage- and wish you luck. When something goes wrong, multiple vendors can all blame each other. With Primera, there's only one finger to point.

Really fast finishing -

Speaking of FX1200, did you know that Primera's FX1200 is the world's first and only multi-blade digital label finishing system (patent pending)? Up to four blades increase production speeds up to four times compared to single blade systems. And because no dies are ever required, you'll save time and money on every job you run.

They're UL-Iisted and FCC compliant -

Unlike some of its competitors, all Primera digital label presses, printers and finishing systems are listed by Underwriter's Laboratory (UL) for the USA and Canada. The UL mark proves that Primera's products have been independently tested by a third party lab to meet stringent standards for product and operator safety- a critical feature that should not be overlooked. Ask your insurance company why this is important. The European CE mark, which is put on the machines, is a little different. It requires only self-certification so you'll see it on a lot of products that don't have UL/UL-C marks. CX/FX products are also approved for sale in the USA by the FCC.

Don't just take our word for it -

Read testimonials from these satisfied Primera customers. Lloyd Taylor, president of Taylor Label and owner of Primera's CX1200 and FX1200 says, "11Primera is the way to go." When he was looking for a way to get into digital label production, 11Primera just made the most sense.
Contact one of our label experts today for more information on how to obtain one of these machines and start enhancing your labeling and production systems.
Quick Links
Primera CX1200 / FX1200 Brochure & Technical Specifications PDF