Posted by Basat Khalifa on 8th Feb 2020
Next Generation Color Label Printing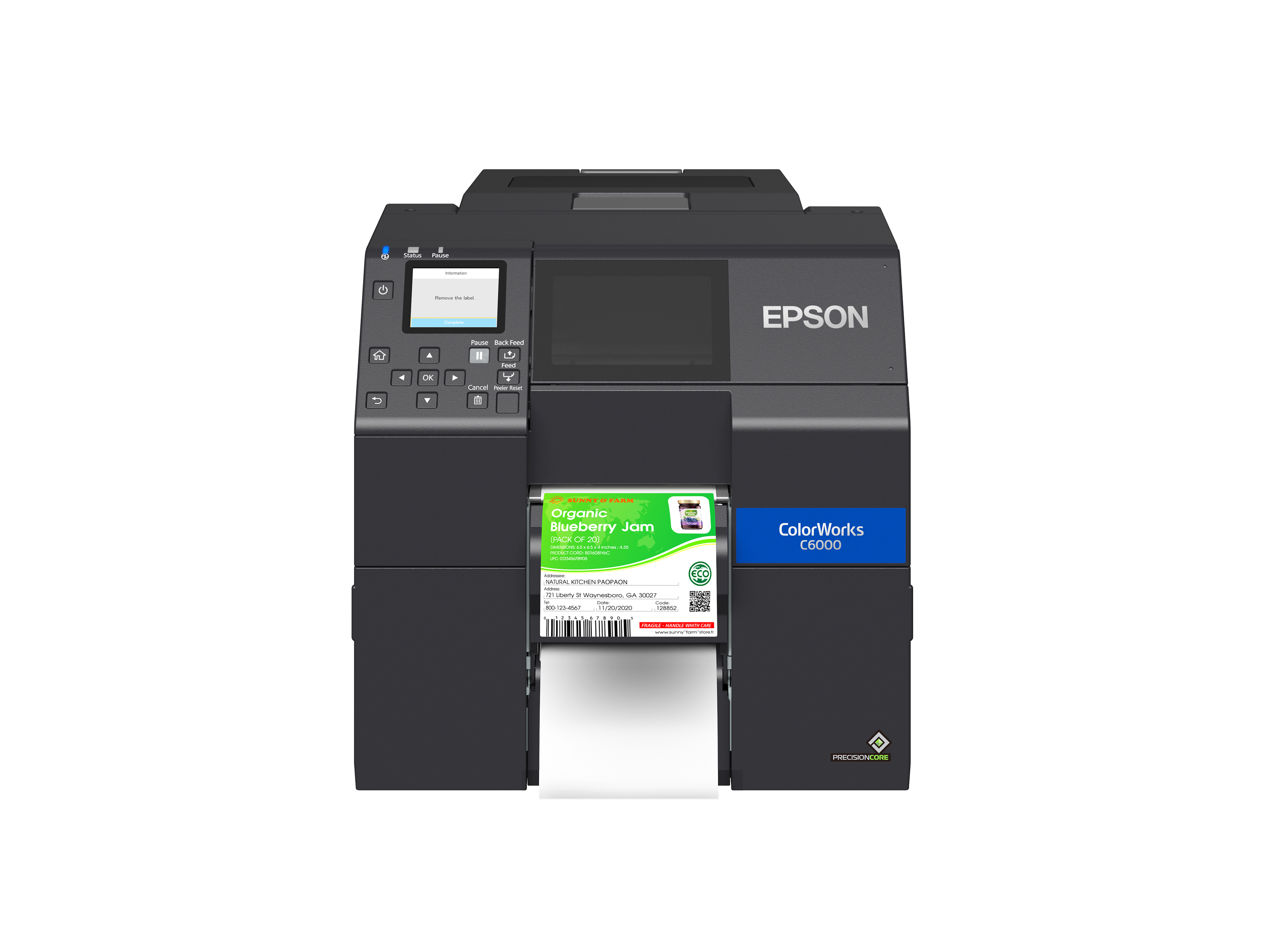 Epson ColorWorks® CW-C6000 series color label printers represent a new frontier in color label printing in industries largely dominated by black and white direct thermal and thermal transfer printers. As the first printer family designed specifically as a color upgrade to black-and-white thermal printers, these color inkjet label printers offer reliable print speeds, up to 1200dpi resolution, and features comparable to those that have made thermal printers industry workhorses — all with color and at a comparable price.
This series consists of the following printer models:
- Epson ColorWorks CW-C6000A color label printer — 4-inch model with auto cutter
-Epson ColorWorks CW-C6000P color label printer — 4-inch model with peel and present
-Epson ColorWorks CW-C6500A color label printer — 8-inch model with auto cutter
-Epson ColorWorks CW-C6500P color label printer — 8-inch model with peel and present
Epson ColorWorks CW-C6000 series color inkjet label printers offer remote printer management and are compatible with ZPL II, SAP® and more. They integrate seamlessly into existing workflows. With four models in the family, these versatile color label printers can accommodate most any production need.
Label Printing Challenges from the Past
To gain a better understanding of how an Epson CW-C6000 color label printer or an Epson CW-C6500 color label printer could transform your production environment, let's look at some of the label printing challenges from the past.
Traditionally, companies using black-only thermal printers have been limited to black printing on white labels. If they wanted to add color to their labels, they had a few choices:
-Use a thermal transfer label printer with a colored ribbon — For example, red text on a white label.
-Use colored label stock — For example, black text on a yellow label.
-Purchase pre-printed color labels from a print service provider — Leaving blank areas to be printed in later with their thermal printer.
Many companies are still taking this traditional approach, and still encountering numerous challenges associated with it.
For example, purchasing pre-printed color labels from a print service provider typically requires a minimum order quantity. This means you must order a large quantity of the printed labels, even if you don't need that many. This leads to wasted inventory and excess costs. For those who often change label designs, ordering pre-printed labels is impractical, too.
In addition, staff must constantly monitor label inventory to ensure that sufficient stock is on hand. If you run out of pre-printed labels unexpectedly, it could cause significant production delays because you're now subject to your print service provider's own scheduling requirements. You may have to pay a hefty rush fee to get your labels in a timely manner.
Advantages of Epson CW-C6000 Series Color Inkjet Label Printers
Epson solves all of the above challenges with its ColorWorks CW-C6000 series color inkjet label printers. Because these models are designed specifically to replace industrial thermal label printers, they are comparably equipped and ready to be swapped into your existing workflow. You don't have to compromise on speed, reliability, or cost in order to get color.
Once incorporated into your production environment, an Epson CW-C6000 or Epson CW-C6500 allow you to:
-Print full color labels printed on demand — There's no need to order pre-printed color labels or waste label inventory. Simply keep a stock of blank color inkjet label rolls on hand and print your labels as needed.
-Increase production efficiencies — Color-coding is a great way to increase efficiencies in your organization.
-Reduce errors — Printing color images of your products on cartons, pallets, storage racks, shipping boxes, and other containers helps to reduce errors by clarifying the container's contents.
-Improve brand recognition — Adding your logo and brand colors to your labels will enhance brand recognition, helping to build trust and confidence as a result.
-Draw attention to something important — Whether it's a warning label or a special offer, color can help focus attention to something you want to highlight on your label.
-Personalize labels — Since you can print labels on demand, label design changes are much more practical. If desired, you could personalize labels or create seasonal or commemorative labels.
Adding color to your production environment is now affordable, practical, reliable, and cost-efficient thanks to the introduction of Epson ColorWorks CW-C6000 and CW-C6500 color label printers designed as a color upgrade to traditional thermal label printers. Which model is right for you? Explore the printer models below or contact one of our friendly and knowledgeable label printing specialists to learn more.