Posted by BK on 4th Aug 2019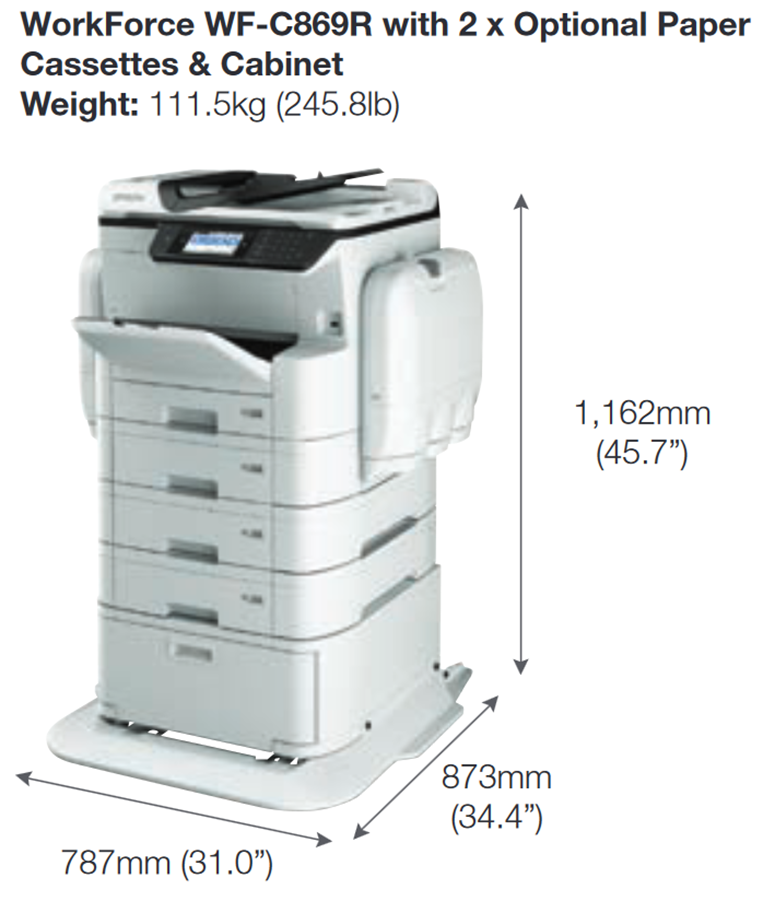 Small business copiers have evolved over the years, becoming smarter and easier to use and maintain. They also get a lot of use, even in small and mid-sized businesses, making it important to choose a copier that's affordable to operate. In fact, there's a lot to consider when buying a small business copier. Here's what you need to know along with our top picks for 2019.
Considerations When Buying a Copier
It's true what they say, one size does not fit all. The perfect copy machine for one office may be overkill for another. Before you begin shopping for a new copier for your business, make sure you understand the features available along with how your office will use the copier.
Multifunction Printer / Copier versus Standalone Copier
One of the first choices you will need to make is to decide between an all-in-one printer / copier or a standalone copier. Multifunction copiers typically scan, fax, print, and copy whereas standalone copiers only copy documents. All-in-ones have an advantage in that you can replace multiple machines with one, potentially saving a lot of money as a result. On the other hand, if your office already has a good network printer, scanner, and fax machine, you may be happier with a standalone copier.
Paper Size
When you think of office documents, printers, and copy machines, what size comes to mind? 8.5" by 11", right? Most printers and copiers support 8.5 x 11 paper (or A4) sizes by default as well as 8.5 by 17 (legal). However, many businesses produce documents, or would like to produce documents, that are wider such as 11" by 17" or 13" by 19". If you need a small business printer / copier that prints documents larger than the standard 8.5 by 11 inches, paying attention to paper size is vital.
Paper Capacity
How much paper can the machine hold? How many paper trays does it have? By design, a small desktop printer or copier will hold less paper than a large one that comes with multiple paper trays. In an office environment, a larger paper capacity is desirable as your will go through paper at a much faster rate. Larger capacity means the copier can produce more documents before running out of paper.
Mono versus Color
Printers and copiers are available in mono or color. The choice you make will depend on several factors including the desire or need for color and your budget. For example, if the copier will be used primarily for memos and correspondence, a traditional mono copier may be just fine. On the other hand, if you plan on producing proposals, special reports, flyers, brochures, sales collateral, and other graphics-heavy documents, you'll probably want a color copier. Color does tend to be more costly than mono due to the need for additional inks and toners.
Choosing Between Ink- and Laser-Based Copiers
The next choice is between ink- and laser-based copy machines. Laser printers and copiers use toner rather than ink and tend to be both fast and crisp. Toner-based copiers and printers are often thought to be more economical to operate than inkjet copiers and printers. However, inkjet manufacturers such as Epson have introduced some exciting new technologies and innovations that are making ink more competitive.
Print Speed
Print speed becomes increasingly important the more a printer or copy machine is used. In an office environment, a fast print speed is vital to productivity so you'll want to look at how many pages per minute each copier you're considering can produce. While laser printers and copiers have a reputation for speed, you may be surprised at how fast inkjet-based models actually are. For example, the Epson WF-C869R multifunction printer / copier, which uses Epson DuraBrite pigment ink, is an inkjet-based printer that prints in full color at a speed of 24 ISO pages per minute.
Upfront and Operating Costs
With a multifunction printer or copier, you have both upfront costs and operating costs to consider. The cheapest option to buy isn't necessarily the cheapest option in the long run, making it important to look at the big picture. Two comparably priced units could have vastly different ink/toner and energy costs, making one more expensive to own than the other. When comparing ink and toner costs, you'll also want to look at page yields for each cartridge to get a better sense of what you are paying for.
We can help you better understand the cost per page of the printers you are considering. Contact us for a free cost analysis.
Network Connectivity
Network connectivity enables the copier or printer to be shared across your office network, improving productivity and convenience. Users can send a print job to the copy machine from their desktop without having to walk across the office or wait for someone else to finish using the copier. Typical choices include Ethernet and wireless connectivity. Some copiers and printers can also connect to the Internet, allowing for remote access.
Other Features
Depending on how you intend to use the machine, you'll have your own list of must-have features. Some of the more popular ones include duplex (2-sided) printing, duplex scanning, auto document feeders, collating and stapling, cloud features, integration with popular applications, and security features such as user control access, PIN number certification, and SSL/TLS security.
Brand
Finally, you'll want to find out more about the copier's reliability. Sticking with proven brands with excellent reputations reduces risk and brings peace of mind. The best brands back up their products with outstanding customer service and warranties.
In the coming weeks, we'll present some of the best copiers for small business for 2019. Let's kick off this series with one of our favorites, the Epson WF-C869R multifunction network copier and printer.
Our Top Picks for 2019
Epson WF-C869R Multifunction Network Copier / Printer
Epson is one of the leading brands of office printers and copiers offering next generation inkjet printing technology. Powered by PrecisionCore technology, the Epson WF-C869R multifunction network copier and printer offers the lowest-cost color printing and copying in its class.
Why We Like It
The Epson WF-C869R multifunction network copier and printer checks off all the boxes for a shared network printer for small and mid-sized businesses (and enterprises, too). It's fast, affordable, easy to operate, and loaded with features. Its high yield, cartridge-free ink pack system prints up to 84,000 pages, which dramatically cuts down your ink costs while eliminating the hassles of changing ink cartridges all the time.
Notable Features
Multifunction — Print, scan, fax, and copy
4 color printing — Uses individual pigment-based inks: Cyan, Magenta, Yellow, and Black
Replaceable Ink Pack System (RIPS) — Up to 84,000 pages
A3 paper size — Print documents up to 13" by 19"
Fast — 24ppm print speed for both color and mono pages and fast scanning at 25ppm
Affordable to own and operate — Flexible business leasing terms are also available
Low energy cost — Energy Star® qualified
Automatic two-sided printing — Save up to 50 percent of paper usage
Network connectivity — Wireless, Ethernet, and remote printing
Open Platform ready — Works with web-based enterprise applications
Security — User control access, PIN number for job release, SSL/TLS, IPsec, and web configuration settings
Capacity — Up to 1830 pages with optional paper trays
Learn more about the
Epson WF-C869R multifunction network copier and printer
.